Couchfish Week 3: Always get out of the boat. Part I
"Never get out of the boat. Absolutely goddamn right. Unless you were goin all the way."
Don't listen to Captain Willard.
---
So says Captain Willard at a pivotal moment in Apocalypse Now. He and a crew member had got off their boat to look for mangoes and were almost attacked by a tiger for their efforts.
While I love mangoes, I'm not sure I'd risk a tiger attack over one. That said, I'm always one to get off the boat at every opportunity.
On one of Sam and my early trips to Laos, we had a Lonely Planet atlas to the country—this was pre-Google Maps. The atlas was handy for finding stuff to take a look at—and also to draw lines on.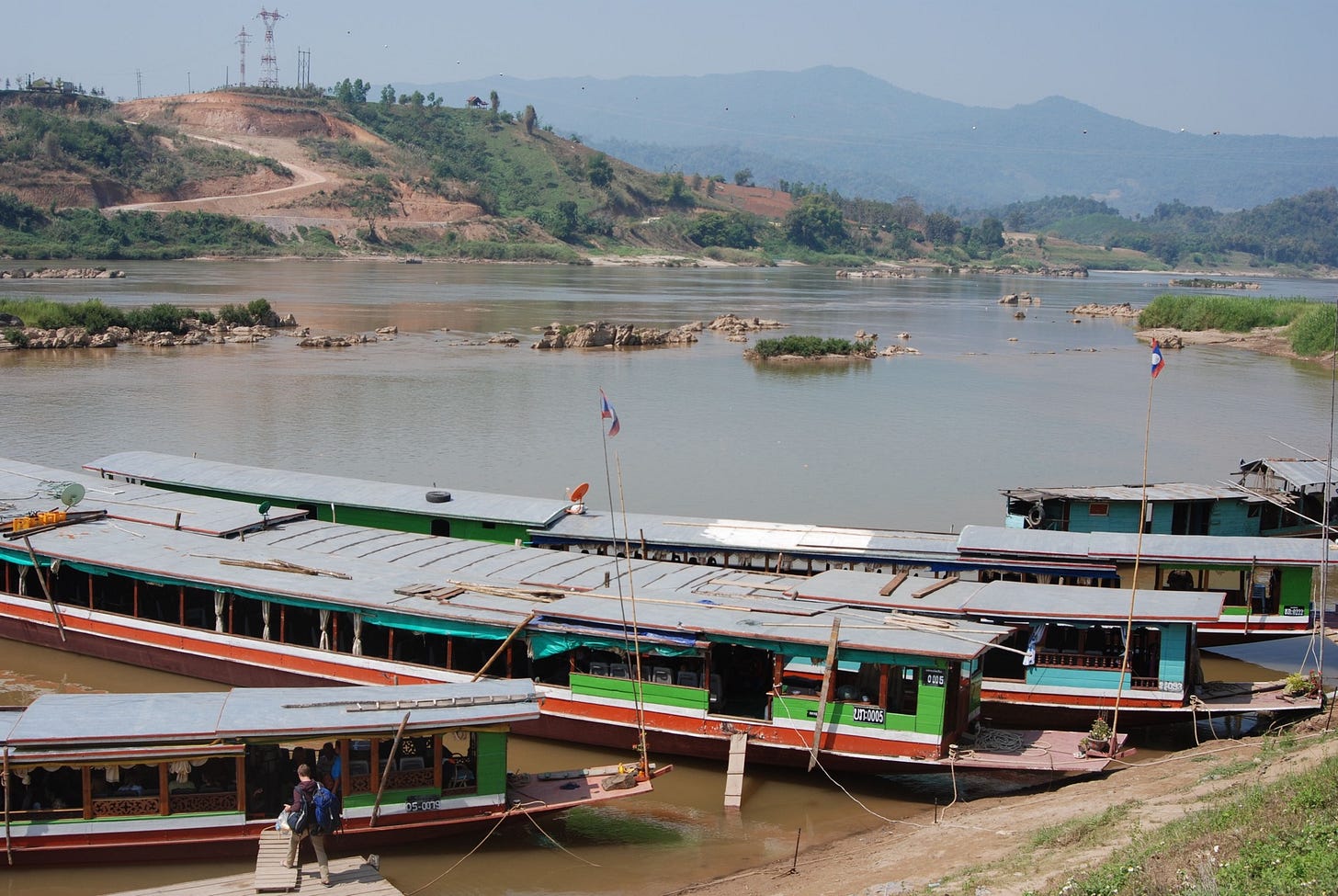 Slow boats at the ready. Photo: Cindy Fan.
---
The day before, we planned to get a boat from Huay Xai to Luang Prabang. We sat in a cafe and I poured over the map. Where could we go? Then I saw a town with a population marker for 25,000 to 50,000 people that was kind of in the direction we were heading. It was called Pha Udom.
According to the atlas there were no roads, only a river. Sounded like something worth checking out. So, the next day we trundled down to the riverfront with a half dozen other backpackers, and off we floated.
According to the atlas, our starting point was the Nam Tha, whose confluence with the Mekong was at Pak Tha. We tried to buy tickets just to Pak Tha, but the ticket dude would have none of it—"Pakbeng or Luang Prabang" he said.
Tracing lines on a map. Photo: Stuart McDonald.
---
So we sat on the boat trying to figure out which village was Pak Tha. Every time I asked the boat driver, he'd look at me with a face that said, "You mean Pakbeng right?'
Nooooo.
A few hours later we pulled up on the muddy bank and everyone had to get out for a document check. It wasn't till we were in the wooden shack waiting for a guy to look at our papers, that we realised we were in Pak Tha.
A scrabble of a village to be sure, but we figured we could find somewhere to sleep. Back to the boat to grab our bags. Another traveller pointed out this wasn't Pakbeng, and we said, yeah we know.
Down town Pak Tha. Photo: Adam Poskitt.
---
Trudging back up to town, we asked around and ended up in a room at the local school for the night. It was as simple as simple got. A threadbare mattress, no sheets, but a mozzie net for each of us.
At the time there were no restaurants in Pak Tha, so we ate barbecued sweet bananas for dinner. Believe me there are only so many you can eat. That evening a raucous party kicked off on the muddy river bank. Sponsored by Singha, the sound system reverberated into the early hours.
The next morning, I found a boatman to take us up the Nam Tha. At the time, the river led all the way to Luang Nam Tha, but we only wanted to go as far as Pak Hat. As with many rivers in Laos, the Nam Tha has since been dammed.
This is what it is all about. Photo: Stuart McDonald.
---
Pak Hat was a dot on the map, and the atlas had a wiggly blue line that led from there to Pha Udom. To say the boatman was bemused at us wanting to go there was a slight understatement. We got going though, in a small sampan, with he and his wife paddling us upriver.
Within 20 minutes the village was behind us and thick forest tumbled down to the banks. A low mist added to the atmosphere. There was no other boat traffic. It was magnificent.
An hour or so later we made landfall at Pak Hat—a village so small it made Pak Tha look like an urban centre. Our boatmen hustled off to hustle us up transport to Pha Ubom and a little later a Russian jeep appeared. Negotiations were fierce but polite. I can't remember what we paid, but, at the time, it seemed like a lot. It was probably $20!
From the trail head it was another hour or so along a decent dirt track. As with the river, jungle everywhere. In one spot I remember a waterfall collapsing onto the road—we drove through it. Splish, splash.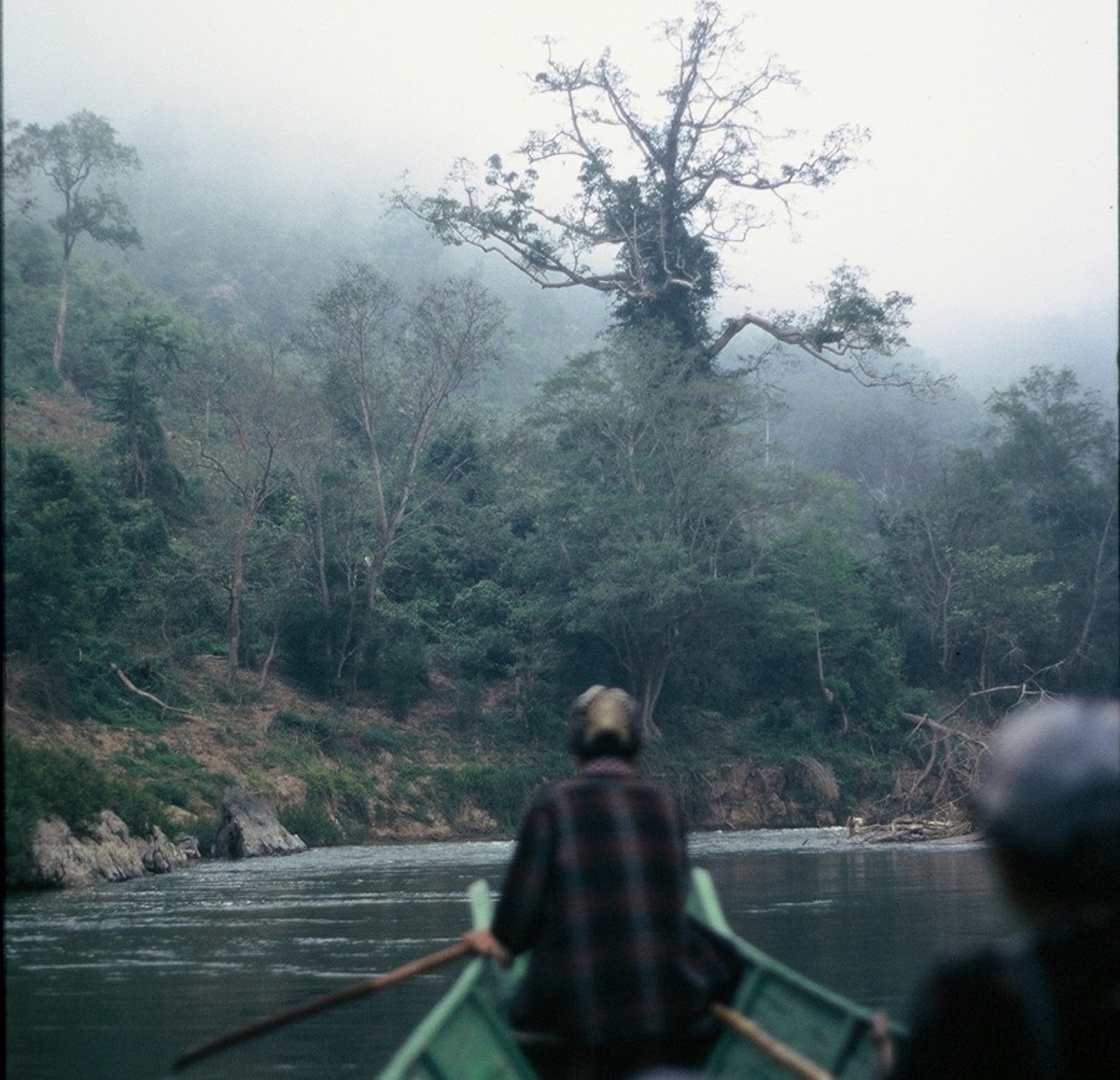 Always get off the boat—and ideally onto another. Photo: Stuart McDonald.
---
Another hour, and the jungle thinned and the tight hills opened to reveal a broad valley. Below us was a large village—huge in fact. The driver explained many people living here were relocated from elsewhere in the region. This was in 1997—almost 20 years before a dam on the Nam Tha would forever change the landscape.
We took a walk around a small part of Pha Udom. As in much of rural Laos, the poverty was grinding. Then we backtracked, first in the jeep, then in the sampan.
That night, bananas again, though no Singha Beer concerto. Late the next morning, back on the slow boat to Pakbeng.
This week gone on Couchfish
A full day enjoying a waterfall in Khlong Lan National Park, not far from Kamphaeng Phet.
I arrive in Mae Sot, visit some temples, a market and find plenty to eat.
One of the best motorbiking roads in Thailand—the trip doesn't go quite as expected.
A visit to the breathtaking Thi Lor Su waterfall.
Heading for Sukhothai, I get waylaid by a broken down bus and end up in Tak for the night.