Another day another boat ride—or so it seems in northern Laos anyways. I grab the morning public boat from Nong Kiaow to Muang Ngoi and it is, for reasons unknown, jammed with locals. Jammed. A couple of hours later I uncurl my body and head to Nicksa's. 
These guys stayed at Nicksa's too!
---
One of the signs out front reads "Bungalow River View Nice Garden" and if you had to sum it up in five words, that works. I go for one of the fancier and sturdier wooden bungalows for a whole 90,000 kip (about US$10). You won't be reading about Nicksa's in Elle Decor anytime soon, but it has all I need. In particular a decent–sized deck with a pre-slung hammock. The view is straight out over the river. Perfect.
I could get a room for as little at $5 in Muang Ngoi, but the town has had a persistent problem with theft from cheaper huts. If there is one village in Laos you're going to have something nicked from your room, this is the one. Why? Who knows, but this has been going on for decades, so I guess someone has an entire warehouse of cameras.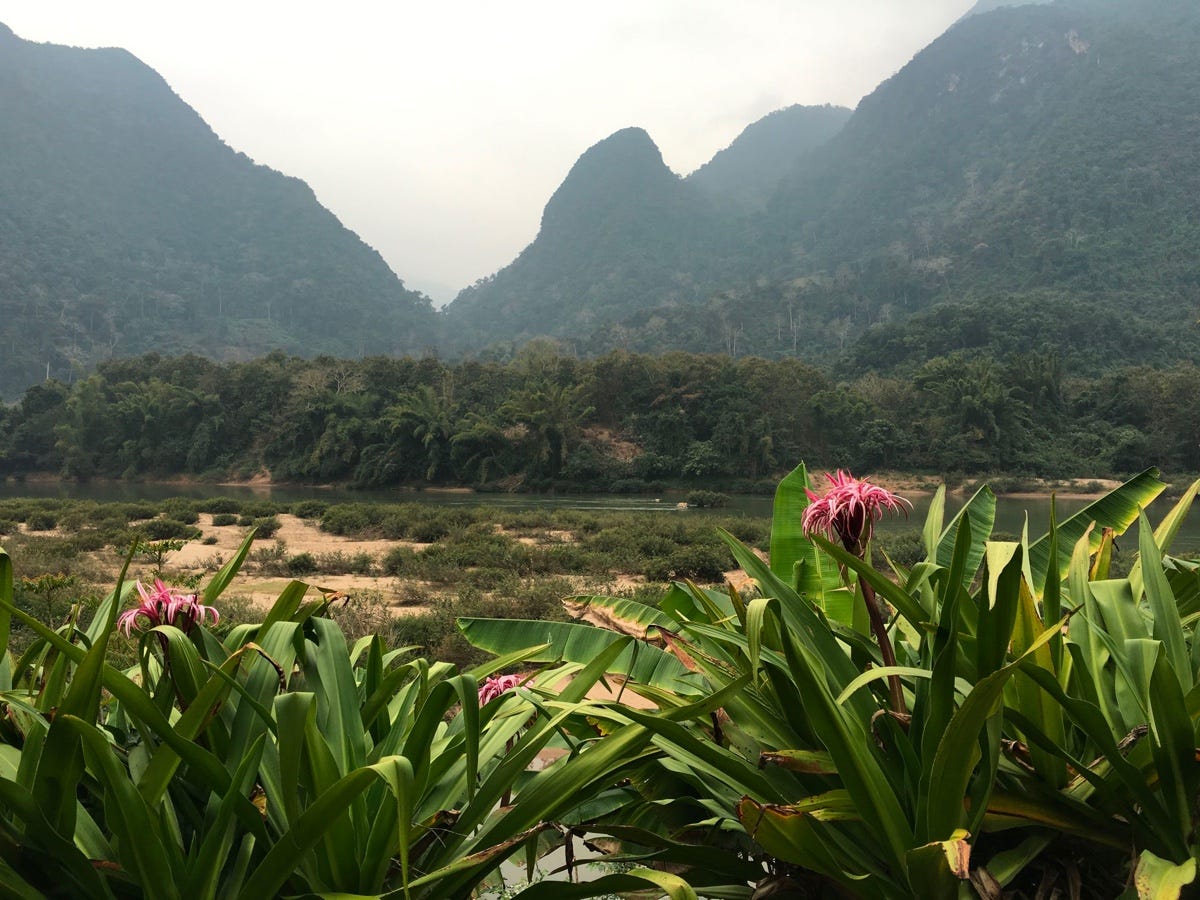 The view from Nicksa's. Photo:
Cindy Fan
.
---
The hammock is the perfect antidote to the boat trip. I grab an icy beer and lounge back with a book, losing a couple of hours. The river slides by. 
The son of a French family in a nearby family bungalow has a complete meltdown. Dad is sitting by the river taking a break while Mum is inside trying to calm the boy down. No luck, his wailing and screaming slices through the bungalow walls like butter. No secrets in Lao budget guesthouses.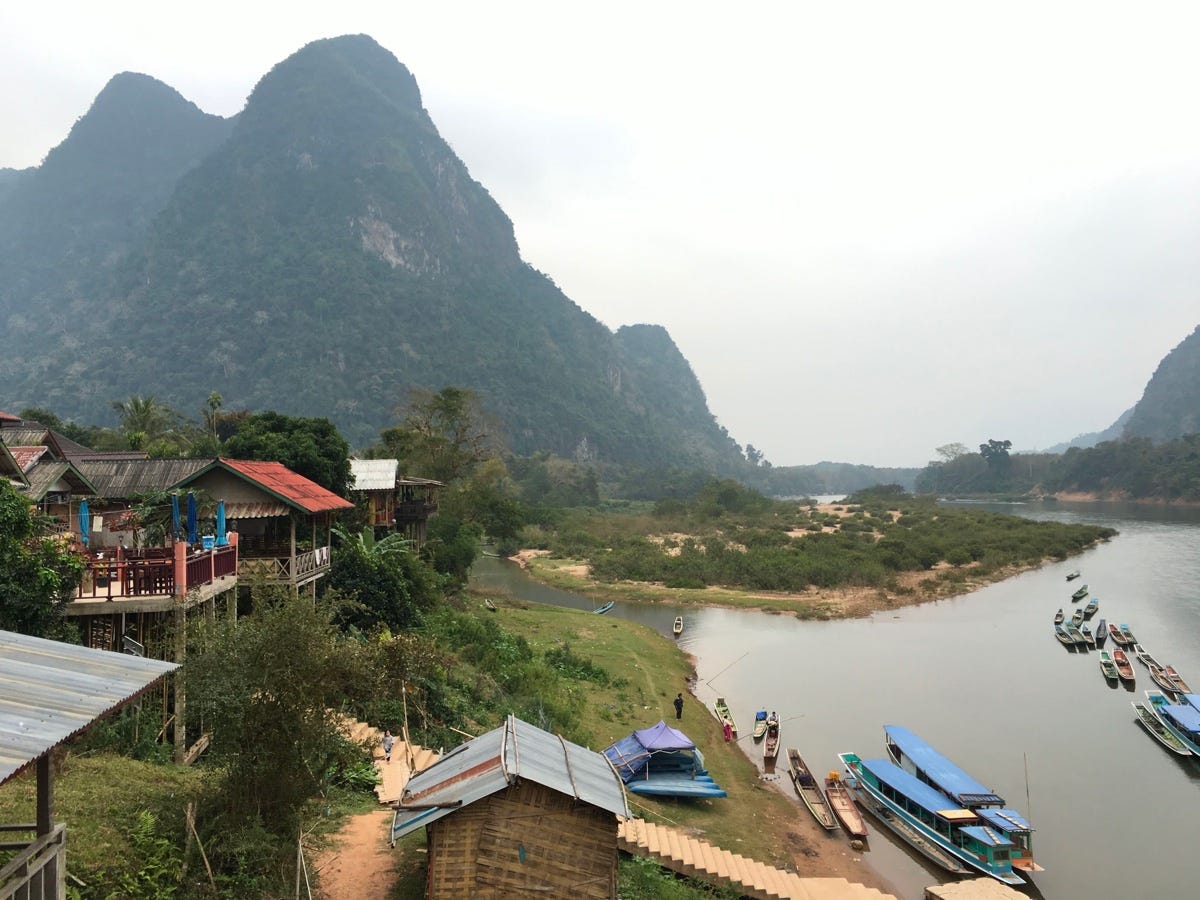 Meet Muang Ngoi. Photo:
Cindy Fan
.
---
Dad walks over to apologise for the racket. The son hadn't wanted to leave Nong Kiaow as there were some other French kids there his age. Mum and Dad had promised there would be more here. There weren't. Ops. Turns out they've been on the road for three years and this is their fourth time to Muang Ngoi. He's a well paid consultant and works online, but Muang Ngoi is a good spot for offline time he says.
Sure is.
The son falls asleep and Mum joins us. Travelling with kids can be great—but it can also be awful, and she's definitely at the latter. Dad scurries off to get some beers and we spend a few hours chatting.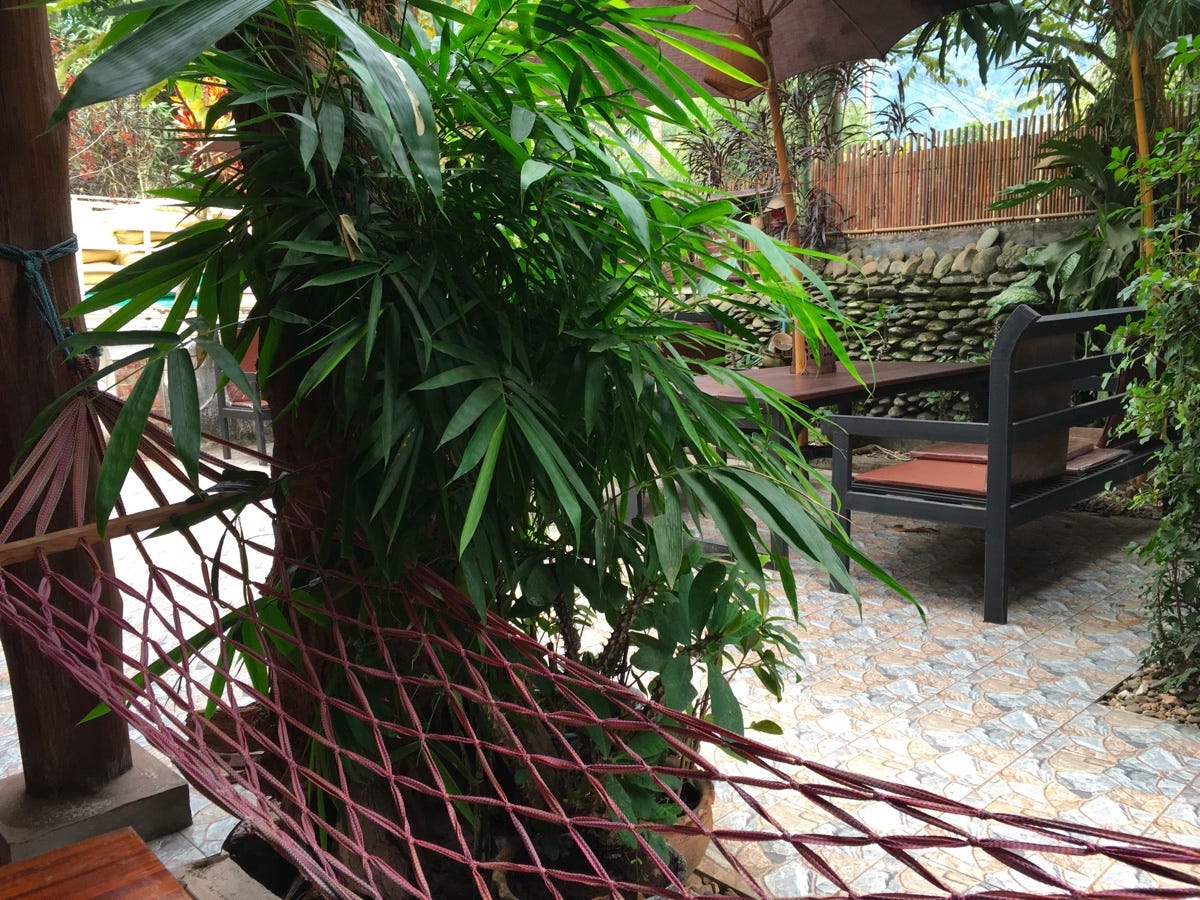 A village so relaxed even the restaurants have hammocks. At Gecko Bar. Photo:
Cindy Fan
.
---
When I tell them I run Travelfish, they're effusive in their praise. They wish there was something similar for India or South America (where they have also spent a lot of time). Why don't I cover there too?
Drinks please!
Later, the four of us climb Muang Ngoi Viewpoint. It's a far easier peak than the one at Nong Kiaow, and the son climbs ahead of us, his sixth time he says proudly. Along the way we talk about travel writing and travel guides and I explain how the sausage factory works.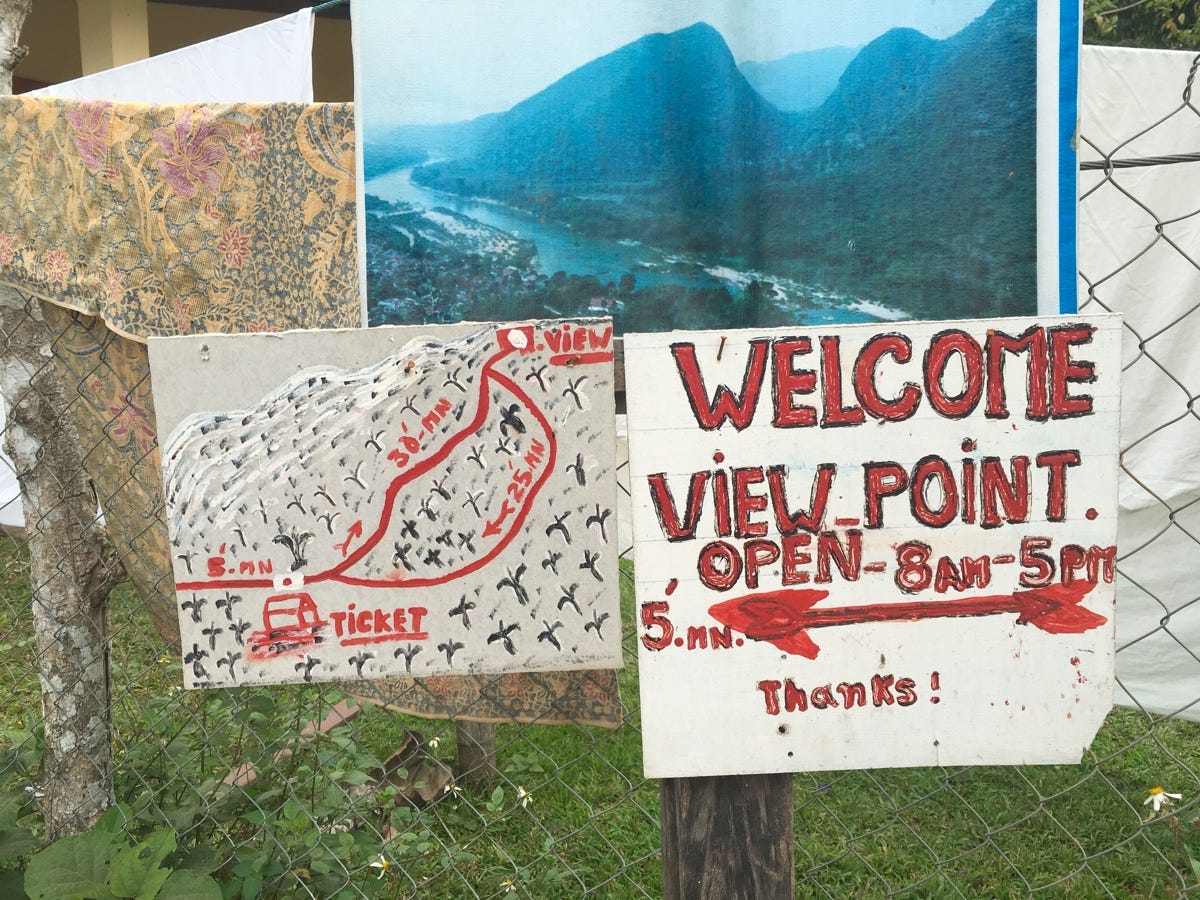 Read the instructions. Photo:
Cindy Fan
.
---
As is the case often when I meet Travelfish readers, they have suggestions, some good, others impractical. As is common, they use the site in conjunction with a raft of other sources. A French translation of a Lonely Planet guide, TripAdvisor and travel blogs. On the later, they've found two blogs by French travelling families particularly helpful. 
You should have more material for families they say. I agree to a point, but then note if they were divers, they'd want more for divers, if surfers more for surfers, and so on. I've a small team and can't cover everything. It's a guide not a gospel, I say.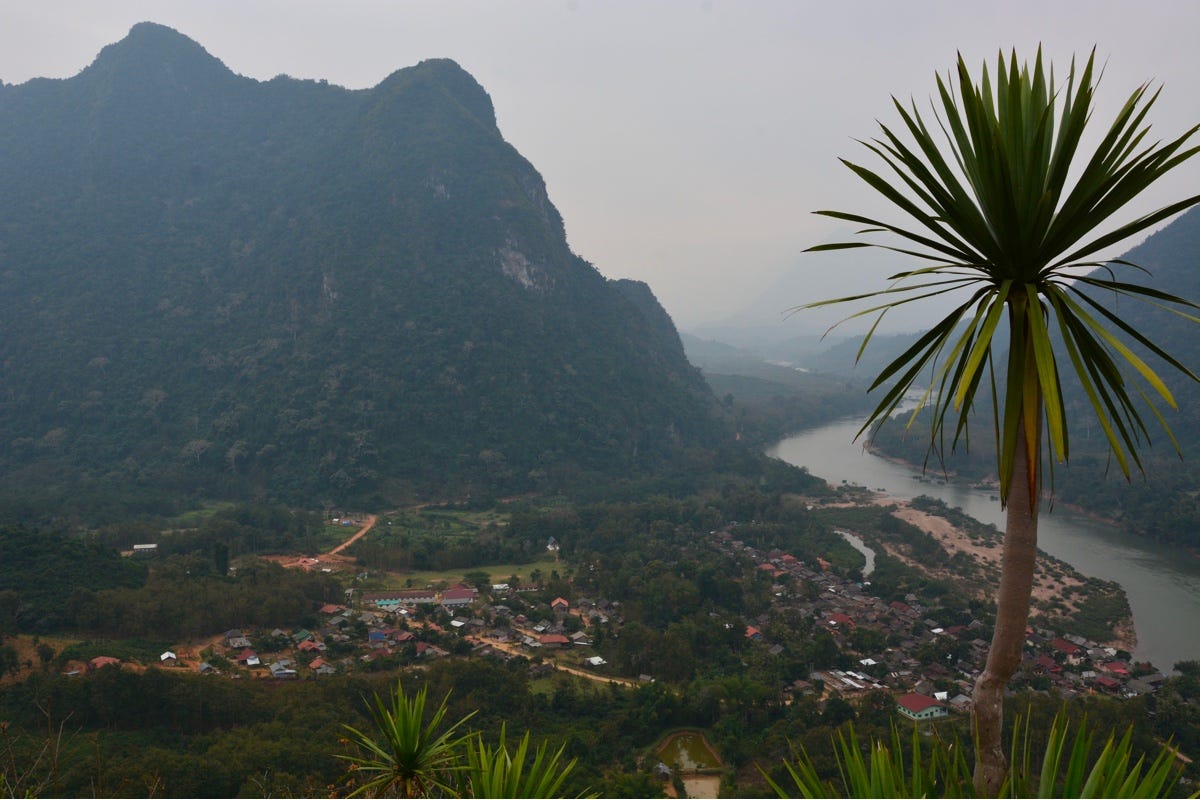 Muang Ngoi from above. Photo:
Cindy Fan
.
---
When I ask them what they like about the site the most, they answer together. "We know you've been there." When I confess it isn't all written by me, they wave that away and start talking about pieces and destinations they've enjoyed. The conversation dovetails into their own journey—the fun times and the bad. We swap tales, laugh a lot, and drink too many Beerlaos. They're the antithesis of the Australian competitive traveller I met on the slowboat. 
Often the pleasure of travel is part the destination, but also the people you meet. If we were neighbours, we'd most likely be close friends. Instead, an upset child in a random village brings us together and we spend a single afternoon by the river.
We swap details but never get in touch.
Tomorrow: Decisions! I'm thinking I've got three options. To Vietnam via Muang Khua, to Vieng Xai and Sam Neua, or perhaps looping south to Phonsavan and the Plain of Jars. Let me know which you'd prefer in the comments!