Decades ago, I was in Thailand on one of my six month trips and two close Australian friends had joined me for a stretch. They'd never been to Southeast Asia and the whole joint kind of blew them away.
At one stage, we were staying on Haad Salad, on the west coast of Ko Pha Ngan. The beach was less developed at the time and there were only two places to stay. One afternoon, it was that magic hour of light, where everything seems to have a golden wash over it. I passed a woman on a rope swing, floating around in ever shrinking circles. She was bathed in the light, and as I passed I said to her "It is beautiful isn't it." She smiled this huge contented smile back.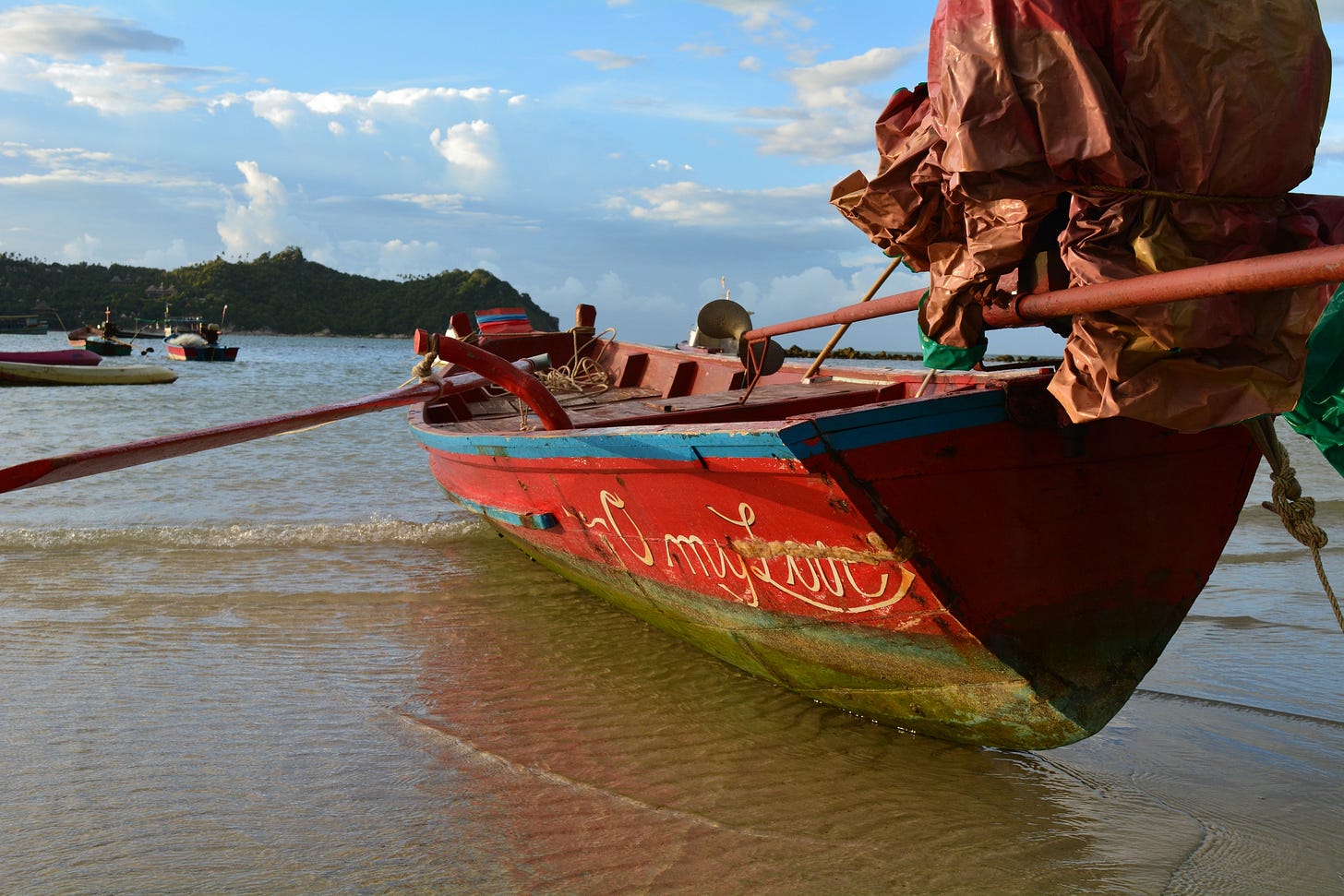 Not the same red boat, same island though. Photo: Stuart McDonald.
---
My friends were sitting beside a wooden longtail, pulled up above the high water mark. It was on its side, and the hull, its red paint blistering, was catching the brunt of the light from the setting sun. My friends were both art–inclined and had been drawn to the boat by the colour of the hull.
As I arrived, they were both in tears laughing. Not far from the boat, they'd found the tin of paint responsible for the colour of the hull. On the side of the tin, there were only two words in English.
"Red boat."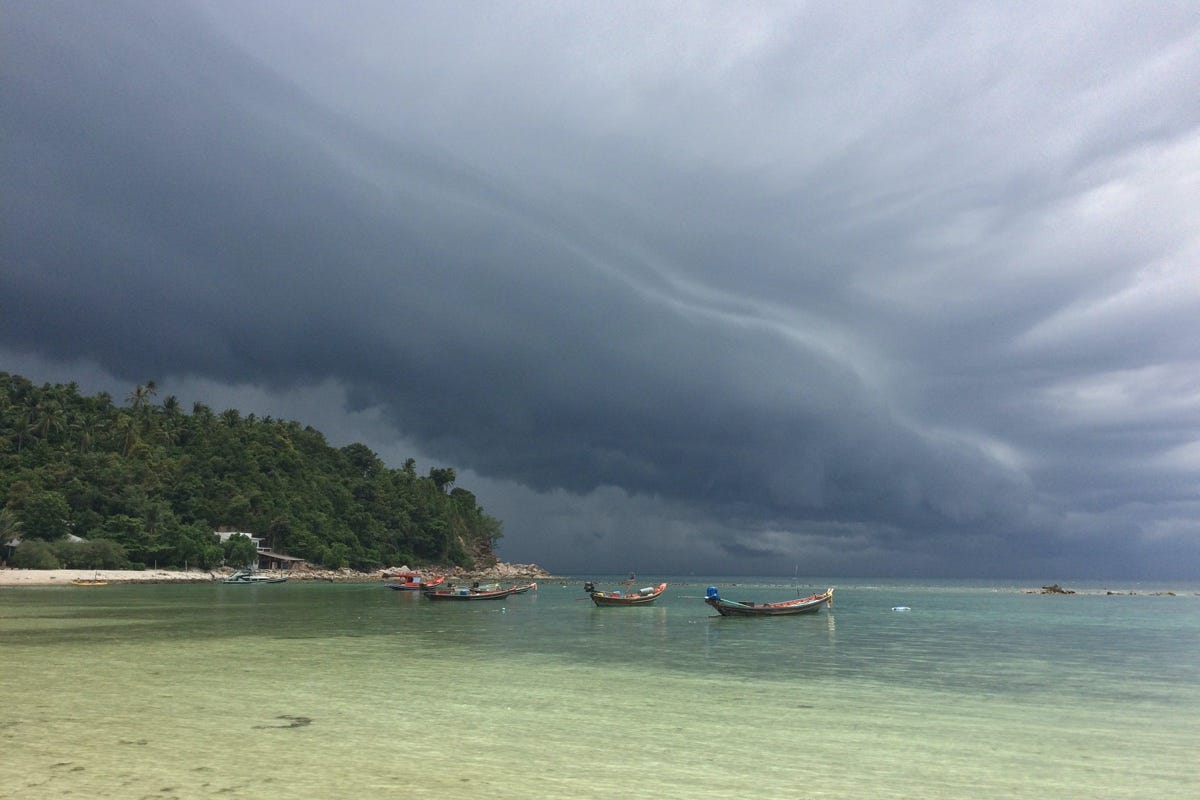 Moody weather. Haad Salad. Photo: Stuart McDonald.
---
In Alain de Botton's The Art of Travel, he writes:
"Why be seduced by something as small as a front door in another country? Why fall in love with a place because it has trams and its people seldom have curtains in their homes? However absurd the intense reactions provoked by such small (and mute) foreign elements may seem, the pattern is at least familiar from our personal lives. There, too, we may find ourselves anchoring emotions of love on the way a person butters his or her bread, or recoiling at his or her taste in shoes. To condemn ourselves for these minute concerns is to ignore how rich in meaning details may be."
For me, it is often the smallest thing that swings the needle on a place—or a person—or a moment. Something that transforms it from memorable to seared into memory.
More often than not, my "small detail" is colour.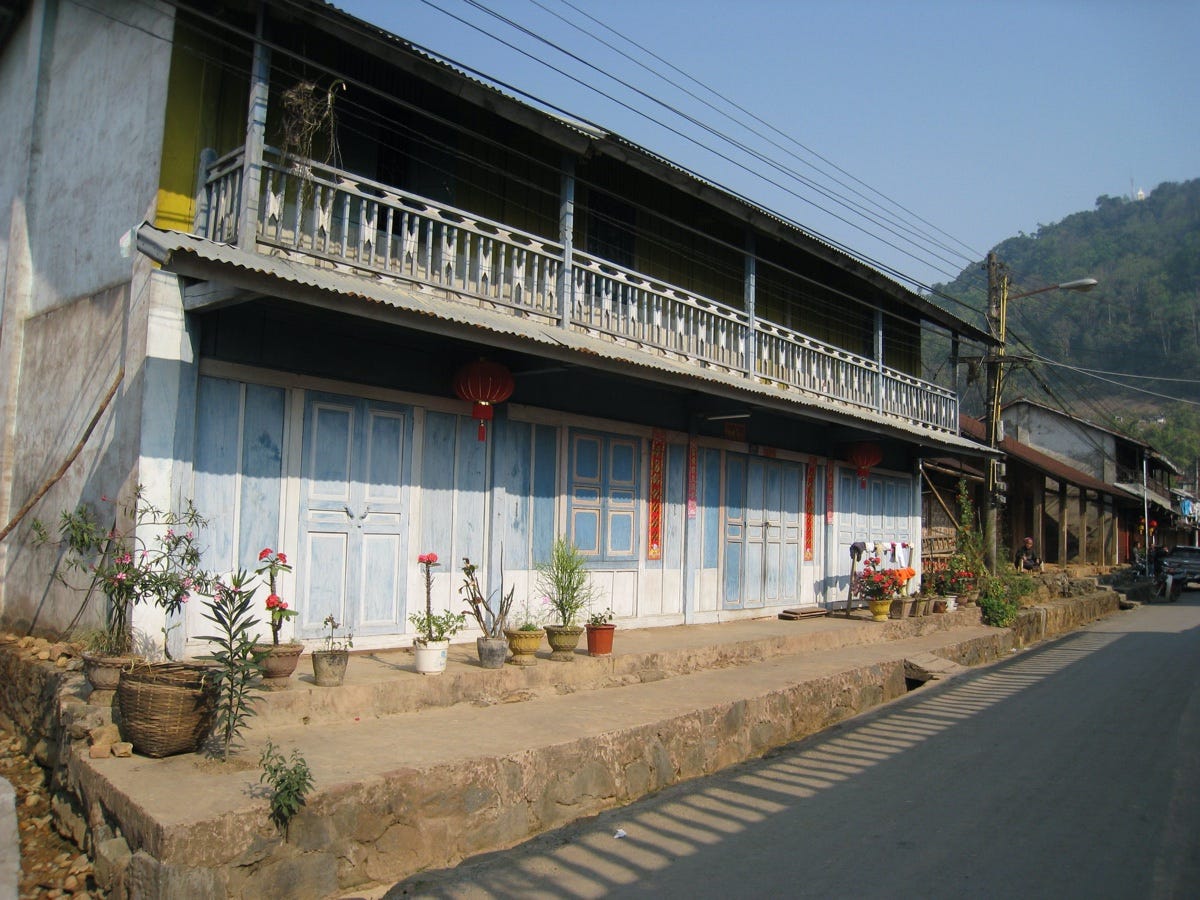 Pale blue doors, Phongsali. Photo: Stuart McDonald.
---
De Botton's front door might grab my eye, but it's the pale blue on the doors in Phongsali's morning light, that makes them unforgettable.
The setting sun, that fiery blast, the light glinting off a lover's hair, a moment that forever, seems frozen in time.
I've been lucky enough to spend more than my fair share of days on the waters of eastern Indonesia. Once, on the north coast of Sumbawa, I was standing on Gili Pudu's only beach. Offshore, a man dragged my green and red, yellow–edged boat through the shallows. When I think of turquoise I always draw the colour from that moment. Why? It was perfect.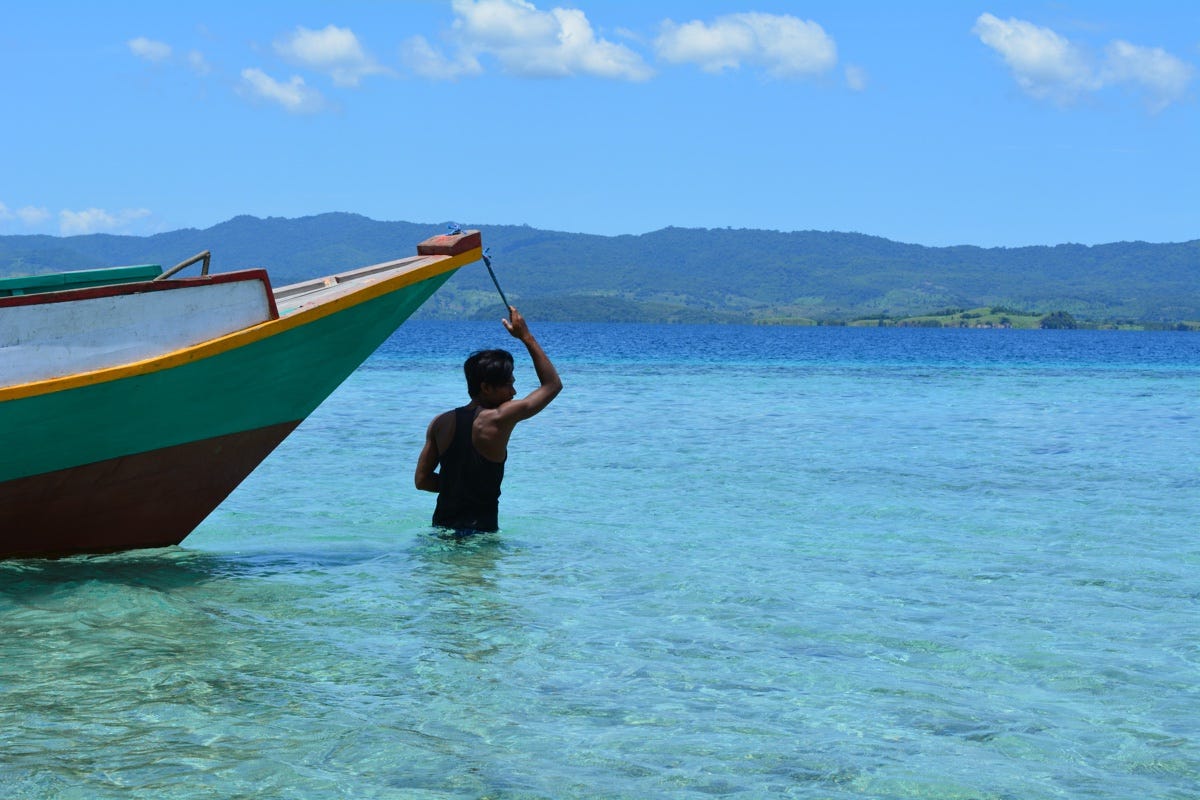 One man, one boat. Gili Pudu, Sumbawa. Photo: Stuart McDonald.
---
It took me years to realise that my red boat moment was so stuck in my mind, not because of my friends having a laugh, but rather because of the colour itself.
Years after the red boat, I was reading The Art of Travel on the veranda at the FCC in Phnom Penh. It was a similar time of day, all was aglow. From memory, de Botton was writing about Vincent van Gogh and the hues of the fields in France. It's hard to think of anything more removed from the Tonle Sap. I read the passage over and over as the sun's fingers lengthened. He could have been writing about where I was sitting—it wasn't about the place—it was about the colour.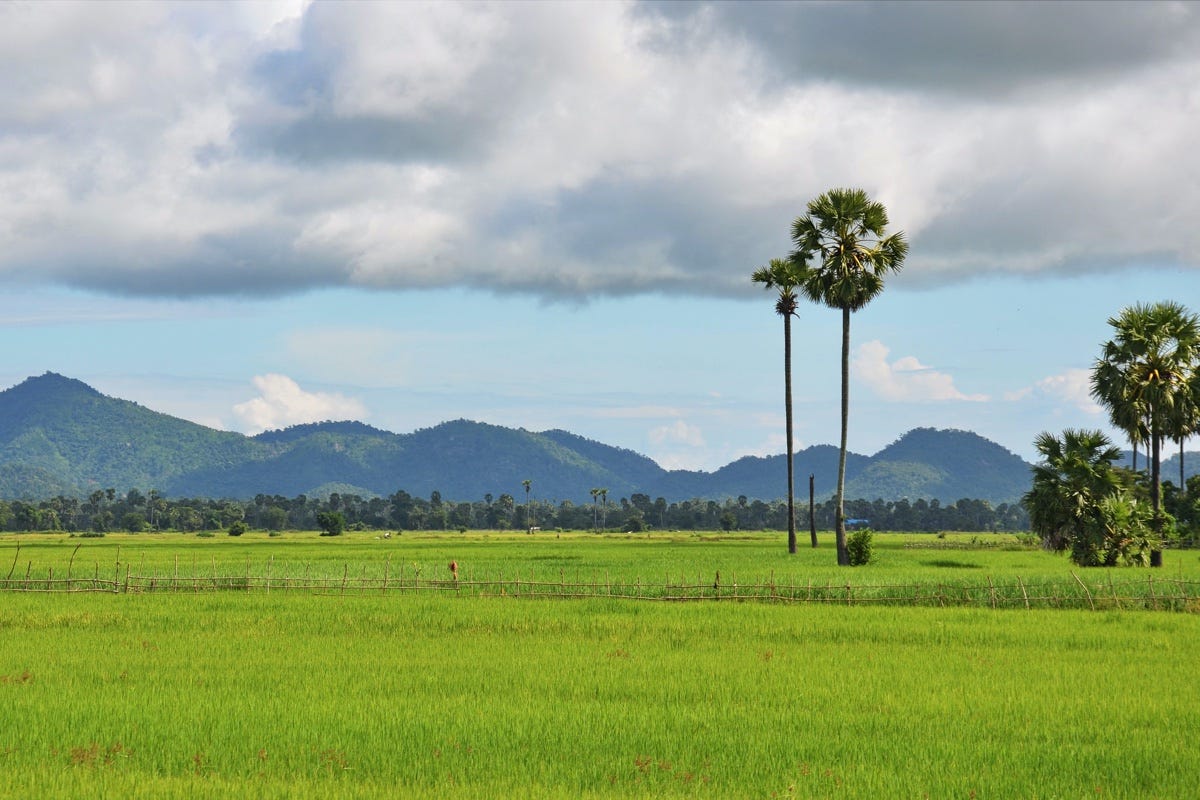 Classic Cambodia. Photo:
Mark Ord
.
---
At the time, I had to commute between Phnom Penh and Bangkok once a month. I'd get a share taxi from Phnom Penh to Battambang, then on to Pailin. From there a bumpy road to the border, cross into Thailand, a van to Chanthaburi then a bus to Bangkok. It was a fun trip, but it was getting old. My record time was 14 hours door to door.
After that reading session at FCC, the next time I was on the run, the experience had changed. I was sitting in the passenger seat of a white banged–up Corolla, window down. It was wet season. The air was hot and soaked like only Cambodian air can be. The hardbase was wet dog black with red clay edging. Huge skies overhead, the emerald fields blasted out as far as the eye could see. Dotted with sugar palms, the tree which, for me, will always say "Cambodia", the fields passed in a haze of colour.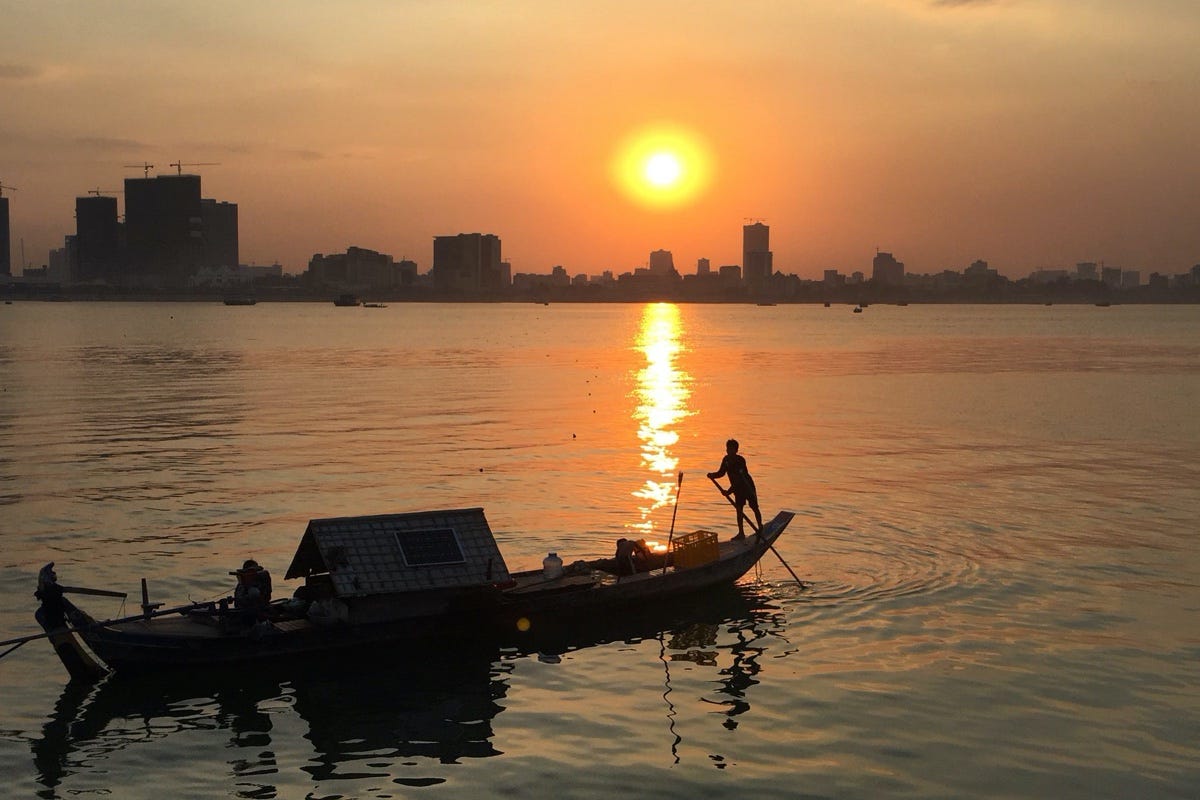 No filter required. Sunset, Phnom Penh. Photo: Stuart McDonald.
---
At that point I'd done the trip at least a dozen times. Yet it was only on that day, that it struck me how beautiful it was. The fields were not emerald—the colour was far more complex. When we pulled over for a pee–stop I walked out into a field a little. I'm no stranger to rice paddies, but the more I looked, the more I realised "emerald" was a lazy writer's descriptor.
The fields were awash and the storm clouds responsible reflected off the paddie water. The moody light filtered through the stalks as they swayed in unison. Their shadows streaked through the clouds reflected beneath them.
The driver called me back and we pushed on.