Couchfish Week 12: The fabulist
You know the story. You're sitting around in some traveller cafe and you get chatting to another traveller who has met so and so who was working for so and so as a travel writer. The tales are often not complimentary. This story is a little different.
About a fifteen minute walk north of Khao San Road, just over the khlong where the road name changes from Chakrabongse to Samsen, on your left, walking north, you'll find Adhere the 13th Bar.
The night I met a fabulist. He's out of shot. Photo: Stuart McDonald.
---
At this point I'm just going to pass the wand to one of our past writers, Brock, who sums up the place perfectly:
"Sometimes discovery happens the hard way, requiring a lifetime of slogging through a city, measuring and weighing and comparing to see if you've found the one true thing you have been after. And sometimes it happens the easy way. Possibly when you are just the tiniest bit tipsy after drinking beers and complaining about live music options, a friend leads you to the one true thing you needed. And it's perfection. It's Adhere the 13th.""
Less eloquently, I'd describe it as a hole–in–the–wall good bar with interesting people.
So there I am, with some of the the crew from a now vanished travel magazine that I'll call Bule, and a few people from other publications. The bar is walking distance from the Bule office and we've been there all afternoon. Bule are on the edge of the precipice due to one of Thailand's too–frequent dramas, and I'm there with a mate from The Nation blathering about what we think could be done to assist.
A highlight of Dong Xoai. Photo: Don Morgan.
---
At the time, Travelfish is small. A niche site catering just to backpackers. There is a lot of crossover though between our and Bule's readership—how can we scratch each other's backs we wonder?
Unlike me, they have real overhead, and the challenges are punishing. Just like today, publishing is so often people wanting to do great things, but the world working against them.
Adhere the 13th is small and crammed, and once the music gets going it is too loud, so we move down to Soi Rambuttri. There we settle into a street side place, chug beers, eat too much, talk shop and watch the circus.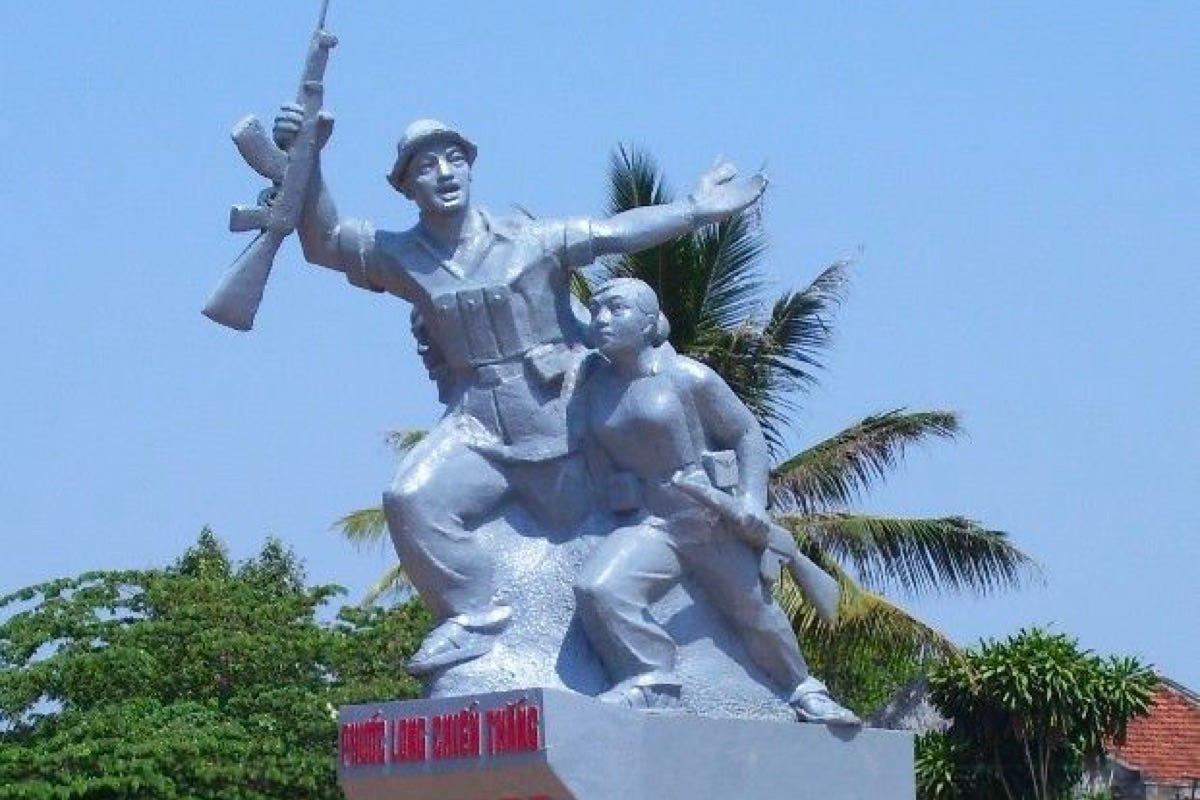 Unite against fabulists. Phuoc Long. Photo: Don Morgan.
---
A guy walks up, recognising the Bule editor, and asks if he can join us. He introduces himself as Joe* and he's a travel writer, just back from Vietnam. Attention is devoted to my Nation mate, who is telling everyone a hysterically insane story about him spending a night hiding in a stormwater drain on Sukhumvit Soi 38 to dodge his partner's family. My Nation friend, exhausted with his own tale, pivots to Joe and asks after his story.
Joe jumps to the podium and starts raving about his trip to Vietnam working for an Australian publisher. The publisher is online, and the work is hardcore he says. There were no foreigners at all where he went, and he was almost arrested by the police. He rattles off the names of little known destinations with confident ease. It was "real travel" he says.
On the road to Binh Long. Photo: Don Morgan.
---
I'm half listening, half in another conversation, but the place names get my attention. Provincial capitals between Ho Chi Minh City and Da Lat that no traveller in their right mind would get off the bus at. About a year earlier we'd had a writer go through the same area, and his experiences were similar. He saw no other foreigners, and was almost arrested—as with Joe, he found the research demanding. Joe's zeal however, leaves me thinking perhaps our writer missed something.
So I bite the bullet and I ask, who were you writing for? Lonely Planet? Rough Guides?
He laughs. No, he'd never write for them, he writes for Travelfish.
Somewhere a dog barks. My Nation friend bursts out laughing.
No horizon pools in Gia Nghia. Photo: Don Morgan.
---
Travelfish is a company run by an Australian couple who live in Vietnam he tells me. They're trust fund babies, now embassy staff in Hanoi, and run the site to "keep in touch with their roots". He has nothing but praise for this Australian couple, and talks about how much freedom they give him to work as he wants—and the money is great.
I'm not often lost for words, but I'm utterly speechless—I have no idea who this person is.
On he goes with a mish–mash of truths, half truths and complete garbage. My Nation mate eggs him on, knowing full well Joe is making the whole tale up. Our writer was almost arrested in one of the provinces he talks about, yet Joe recounts the story as his own. His attention to detail is uncanny—he even mentions the type of motorbike he got around on—a Fuzeko—a make of bike I'd never heard of till our writer sent me a photo of the bike as a part of a feature we had published.
Downtown Gia Nghia. Photo: Don Morgan.
---
As Joe rolls through the arrest story, the Bule editor leans over and says "we'll take that, can you write it up? Do you have pics?"
Photos, it turns out, are a problem. The police confiscated his camera, but he'd be happy to write a piece with more generic Vietnam pics. What do you pay? he asks. The editor says he'll think about it.
The whole time I'm sitting there thinking who the hell are you?
By the time Joe gets to his Laos trip, my Nation mate has caught the Bule editor's ear and told him he's a fabulist. As word spreads around the table, interest fades.
Don's chariot. Photo: Don Morgan.
---
Towards the end of the night, in a lull in the conversation, Joe asks me what I do. I say I'm an online travel publisher—I don't know what else to say.
And at that, he pulls out a Travelfish business card (something we don't have) and hands me one.
"I'm headed to southern Thailand next month, if you're interested in a feature or two on the islands, let me know. I'm allowed to do freelance."
* Joe is a pseudonym.