Couchfish Diversion 4: Munduk, Indonesia
When you live in Indonesia's most heaviest touristed destination, where is a decent diversion? If I'm happy to jump on a plane, Flores or Sumbawa are no brainers, but if I just want a weekend getaway bereft of crowds, where do I go? I go to Munduk (map link). And this is how I do it.
Early bird gets the worm and nowhere is that truer, at least traffic–wise, than Bali. I pile the family into the car early for the westward drive. If the traffic gods are smiling, Munduk is a three-hour drive from South Bali. Rather than going via Bedugal though, I prefer to take the coast route through Tabanan.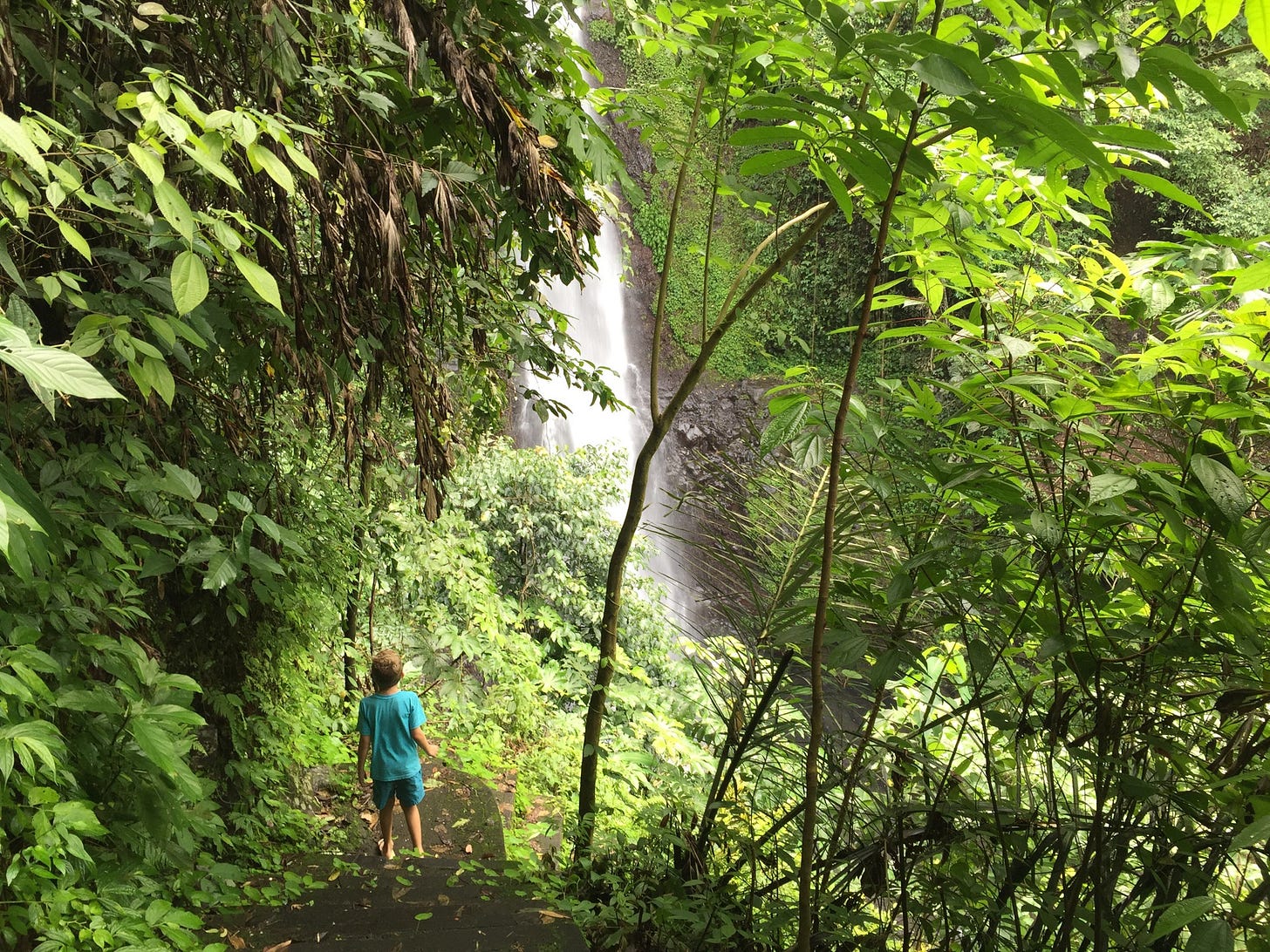 Nearing Melanting Waterfall. Munduk is perfect for kids. Photo: Stuart McDonald.
---
Years ago, when we were still living in Jakarta, we took an occasional holiday to Bali and never got the appeal of it. Many of the city beaches are meh and Ubud was not our scene, but on one trip we drove out west and the beauty of Bali hit us. After Tabanan but before Balian, a cross-island road heads north. We take that, leaving the Indian Ocean and its black-sand surf beaches behind.
Rice fields blanket the landscape, from the coastal settlements to the volcano's foothills. Even the most rice field-hardened "I've seen it all–er" will struggle not to pull over and admire the view. About half way to Pupuan are a couple of viewpoint cafes. We pull up at the one with the enormous fruit bats hanging in a tree out front. Their Bali coffee may be vile but the views more than compensate.
The condensed milk is better than the coffee. Believe me. Photo: Stuart McDonald.
---
The road winds, we scoot through small villages. Bright red roof tiles, well brushed compound temples, cloves laid out to dry on the shoulder. We wind the windows down to smell their scent. Pulling over now and then for a full wander—and a snack ... and more bad coffee.
At Pupuan we take a right and the road winds, we're getting higher and the views on a clear day are unbeatable. There's a couple of turn-offs to Munduk, and as usual we miss the first one. It doesn't matter though—we'll get there in the end.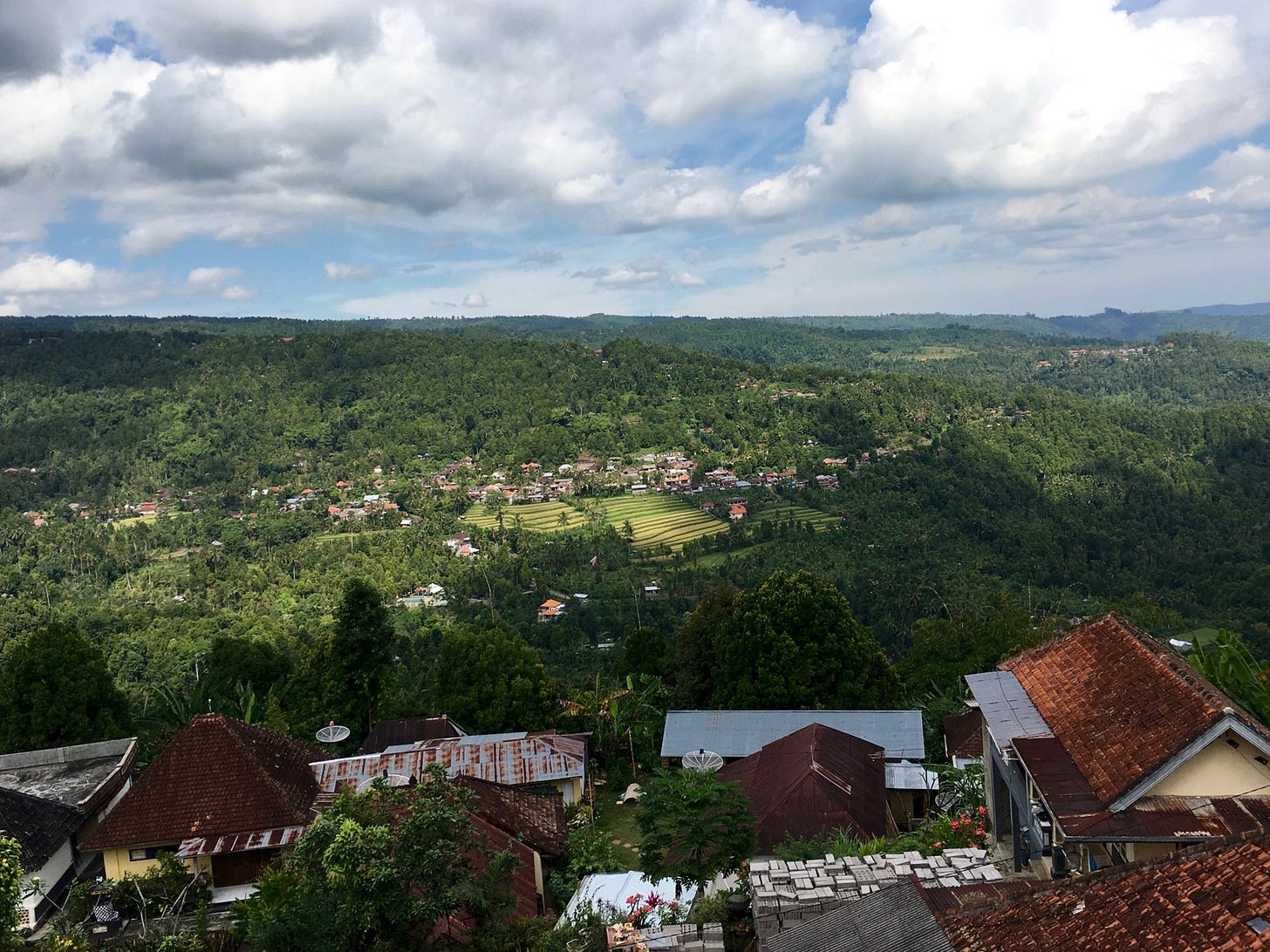 Big skies, big views. Photo: Sally Arnold.
---
Munduk lines a road along a ridge to a cluster of volcanoes in Central Bali. Cloves are everywhere, farmers thrash rice, and school–uniformed kids veer on their bicycles. Every drive is memorable yet different.
There are no shortage of places to stay, but we've always been partial to Puri Alam (from 450,000 rupiah), more on account of their horizon pool than the decidedly ordinary rooms. They also have a rooftop restaurant where you can watch the sun set over the Pacific. We were by the Indian Ocean just an hour or so ago.
Poolside at Puri Alam. Photo: Stuart McDonald.
---
Unless we divert to Balian along the way, we're in Munduk for lunch. Creature of habit that I am, we roll in for ribs at Don Biyu, then onwards to our home for the evening. The afternoon is lost to reading and chilling while the kids swim in the pool. Across the valley, Batukaru looms.
Come the morning, we laze and eat at the guesthouse. With more energy we could wander into the village—a friend has long raved about the sate kambing, but we're yet to hit pay–dirt. Next time.
Decisions, decisions. A valley rice field walk to the south or the waterfalls to the east and north? Or maybe just sit by the pool.
Offerings at Golden Valley Waterfall. Photo: Stuart McDonald.
---
In the wet season, when the subak is pumping, Munduk is a veritable water land. We follow the trail that starts near Taman Ayu on the north side of the road, taking us to Melanting Waterfall. This is one of the most beautiful we've seen in Bali. Every time we've been we've had it to ourselves. To be fair, a machete to get there can be useful.
Two other falls, Tanah Barak and "Golden Valley" are more accessible. As a bonus, both have coffee shops (we skip the kopi luwak, you should too please) nearby. Handy for a pick–me–up after the hike.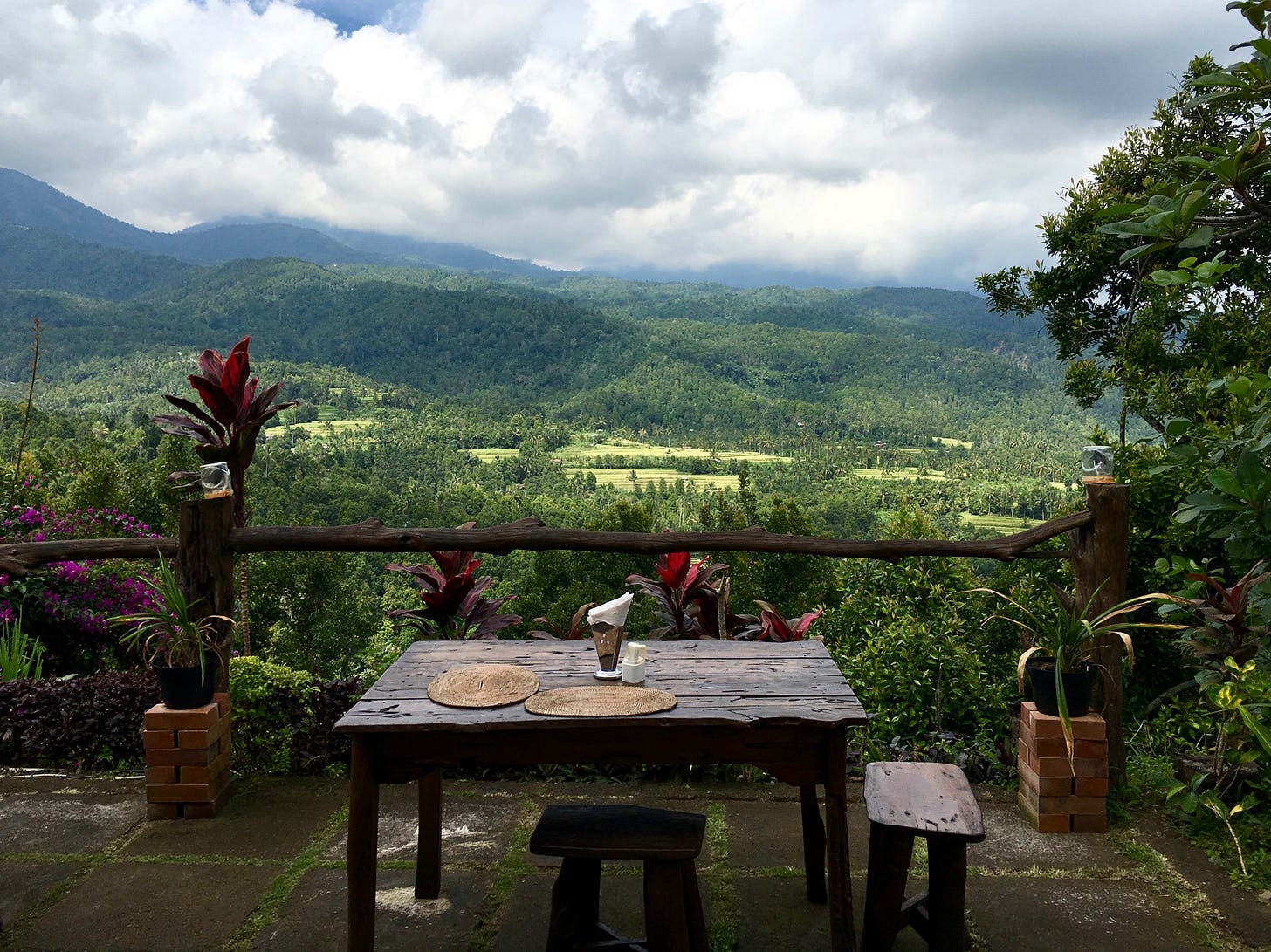 At Made Oka, the views are free. Photo: Sally Arnold.
---
My mid-afternoon we've rested, filled our bellies at Made Oka, and contemplated the other side. A rice field walk can fill an entire day—or just an hour. There is a bit of a network of trails and pathways, and guesthouses will give you a map, but the best approach is just to go.
Wander and get lost. There are plenty of rice fields, fruit orchards, forests and more to get lost within. On a past visit we found the most perfect cottage—it would have been ideal as a writer getaway thing. When we enquired, it turned out it was already rented—by a writer.
"Are we there yet?" Exploring the valley. Photo: Stuart McDonald.
---
The light is sinking, the long slow slog back out of the valley has the kids primed for one more swim. Then it's up to the rooftop to watch the sun fall into the Pacific again.
Tomorrow morning, back to the south side.