Couchfish Week 2: "You're a lucky man"
Scammed again
Hi everyone!
Friday afternoon emails are for both free and paid Couchfish subscribers. During Friday emails, I stray from day to day travel and instead write about a memorable experience—good or bad—I've had. We plan to add a second free email on Tuesdays at 5pm, so watch out for that one too.
This week: The psychic scam.
At the end you'll find a summary of the previous week's paid issues—just in case you missed one. This issue is free—please feel free to share it! If you're a free subscriber, please consider upgrading to the full list—it costs just US$5 per month or $50 for the year.
Have a good weekend and thank you all for your support
Stuart
"You're a lucky man"
Fresh from the tuk tuk scam that I wrote about last Friday, I wandered up and down Khao San Road aimlessly. Just past the old Nat Guesthouse, an Indian guy stepped out of a laneway, made hard eye contact with me and said:
"You're a lucky man. You have such a lucky face. Let me help you."
If the internet had been common back then, I could have Googled this and known I was about to get scammed, but oh well, ho hum.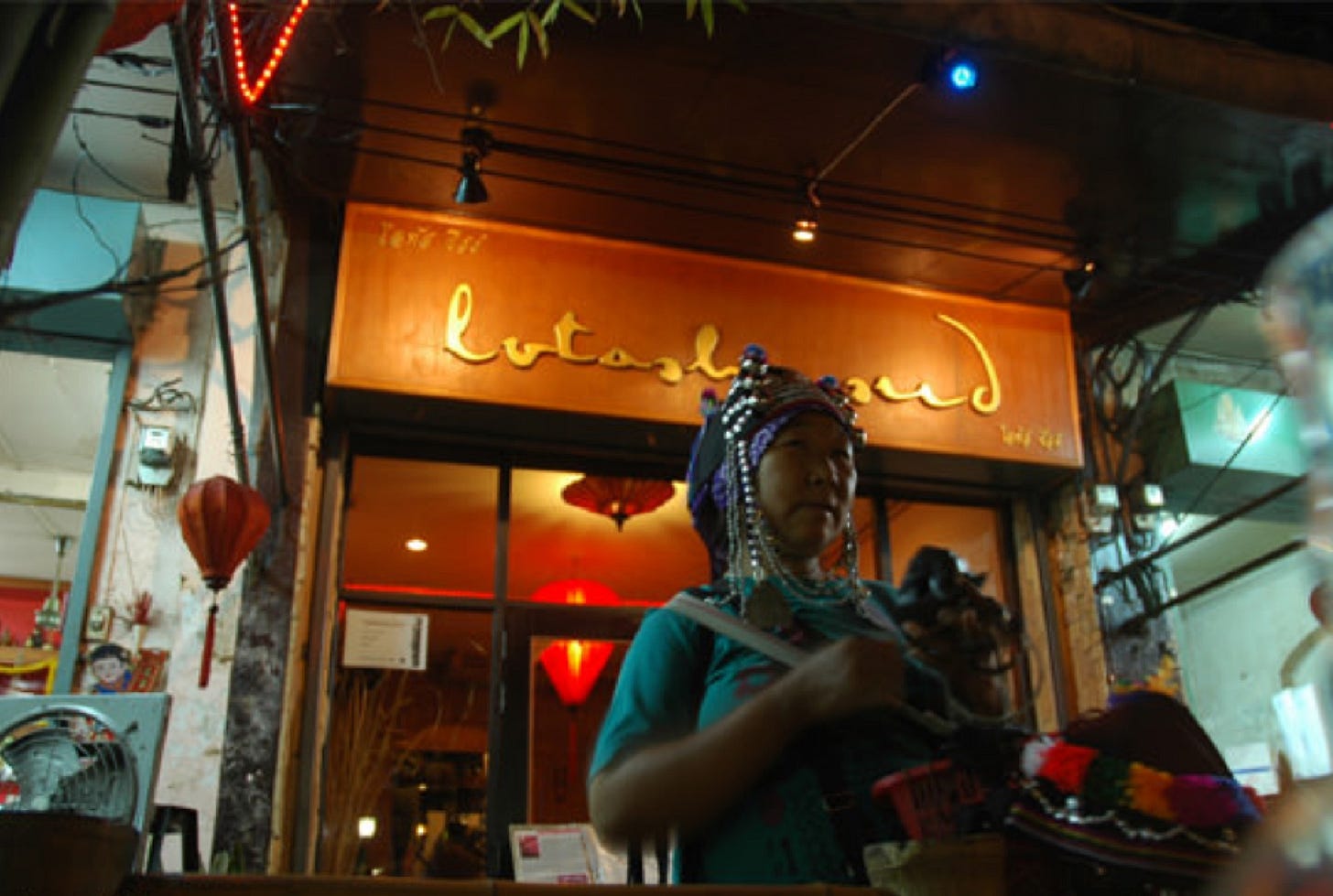 An "Akha" woman near Khao San Road. Photo: Stuart McDonald.
---
I stopped and we made some small talk. He would tell me my future, he said—I so should have kept walking. I've always enjoyed having my palm read though, so I lingered—till we got to the cost.
"US$50 or $100 if you are rich."
"Oh sorry, I don't have that much money on me, and no way am I rich," I said, making to leave.
"That's okay. I can take a travellers' cheque," came the speedy reply. 
I should have walked away, but I paused. The clincher came then.
"I will tell you your mother's maiden name, how many brothers and sisters you have and how old you are. If I get any of them incorrect, you pay nothing."
He had me.
He led me down the alley by Nat Guesthouse to a clearing where we sat on the ground. Out of his satchel came a large notebook and a weathered black and white photo.
He opened the notebook, tore out a page of paper and handed me the photograph. It was a few rows of bearded Indian men in robes. 
"This is from my ashram," he said. "Which one do you think is me?"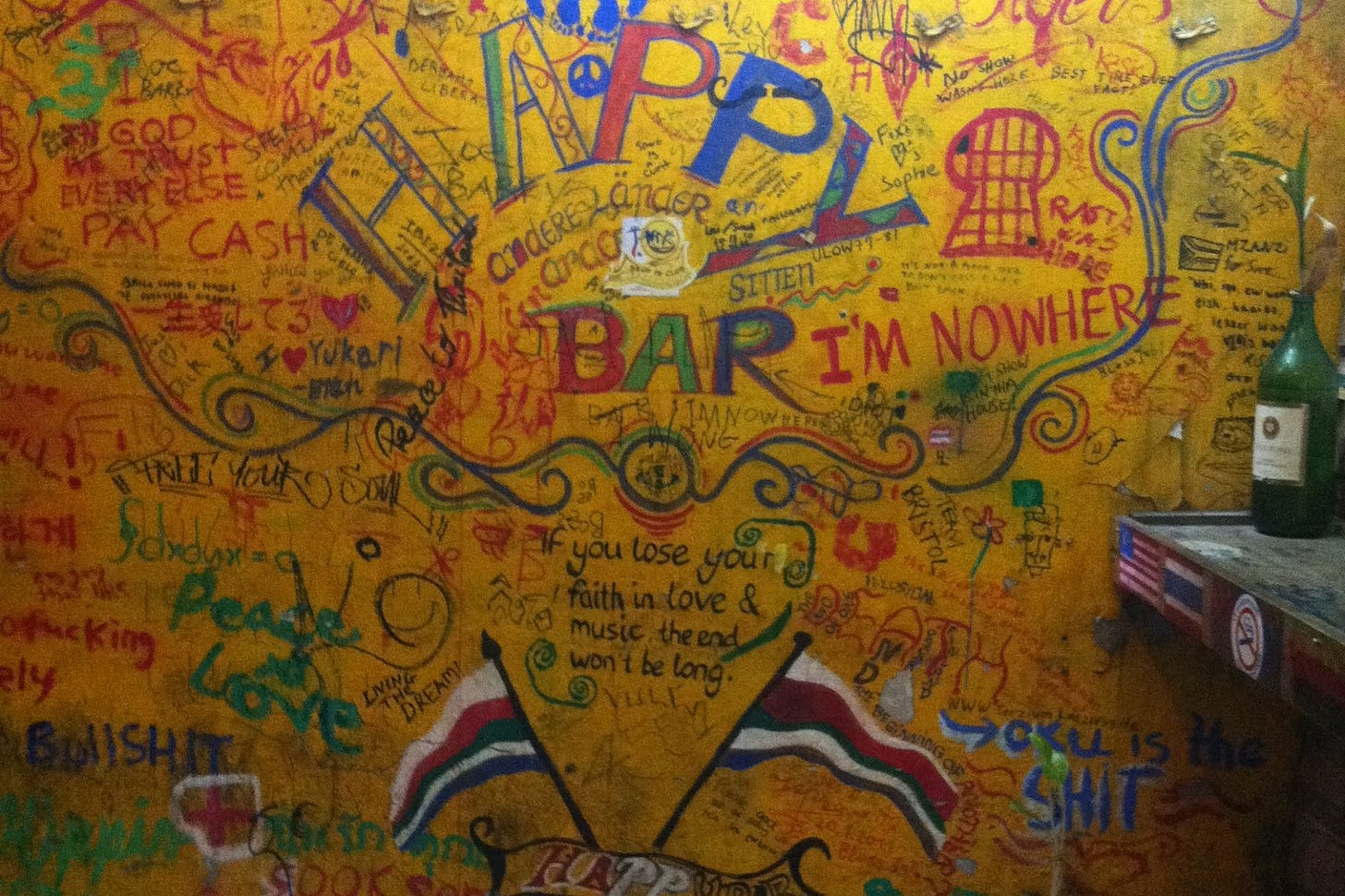 Laneway art, Khao San Road. Photo: Stuart McDonald.
---
While I gazed at the photo, he was writing on the piece of paper. I gestured at one of the men and suggested that was him.
"You're a clever man," he said. "Lucky and clever."
With that, he screwed up the piece of paper he had been writing on and handed it to me.
"Don't open it yet please. Hold it in your fist, blow into it three times and think of what you want to wish for."
"What do I wish for? What do you mean?"
"Good health, life, fortune, love or family—but pick only one please."
I proceeded to blow into my fist and wished for good love.
"Now tap it on your forehead, and look at the photo of me, be sure to concentrate."
Feeling like a twit, I tapped then glared at the photo.
"Perfect. Now blow in your hand three more times."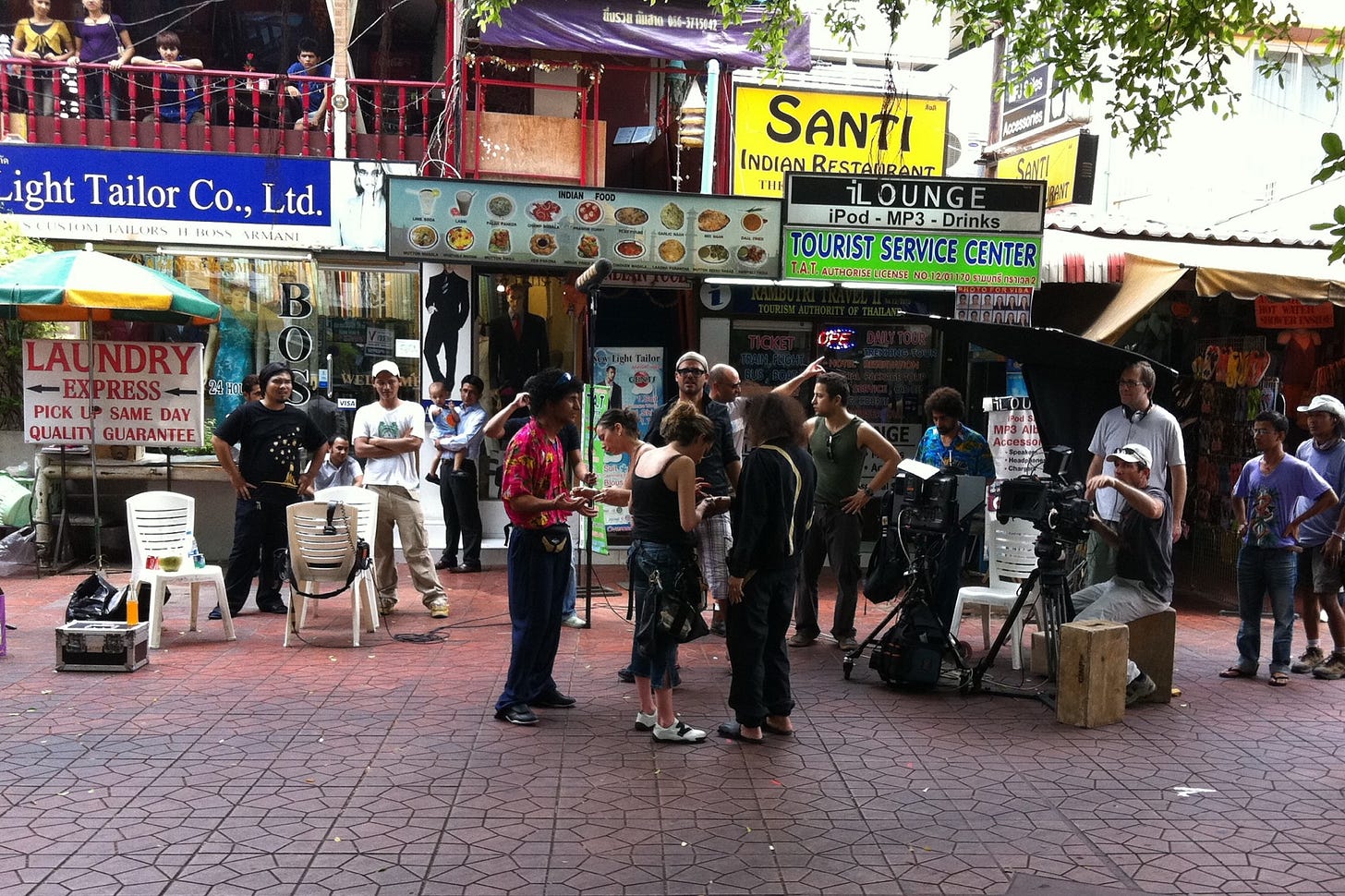 Soi Rambuttri, near Khao San. There is always something going on. Photo: Stuart McDonald.
---
Ritual finished, we sat in silence. He reopened the large notebook in his lap and asked me:
"What is your mother's maiden name?"
"Hang on, you were going to tell me that!"
"I already have, it is on the paper in your fist. Please tell me now and I will write it down. To prove, no trick."
I told him my mother's maiden name and he wrote it in front of me.
"And how many siblings do you have?"
I told him, and the answer was written on the next line.
"How old are you?"
I felt like saying twenty-three and dumber than I look, but stuck with twenty-three.
It was written down as well.
"Now, please blow in your fist again, three times, then tap it on your forehead. After that, hand it to me."
I did so. I wondered how I was going to explain to Becky about being a travellers' cheque down for this idiocy. I'd just tell her I lost it.
I handed him back the scrunched up piece of paper. He held my gaze and then his eyes pulled mine down to the notebook.
There on the left were the three lines as dictated by me.
Beside them, on the now flattened out piece of paper that was in my hand—the same three lines.
I shook.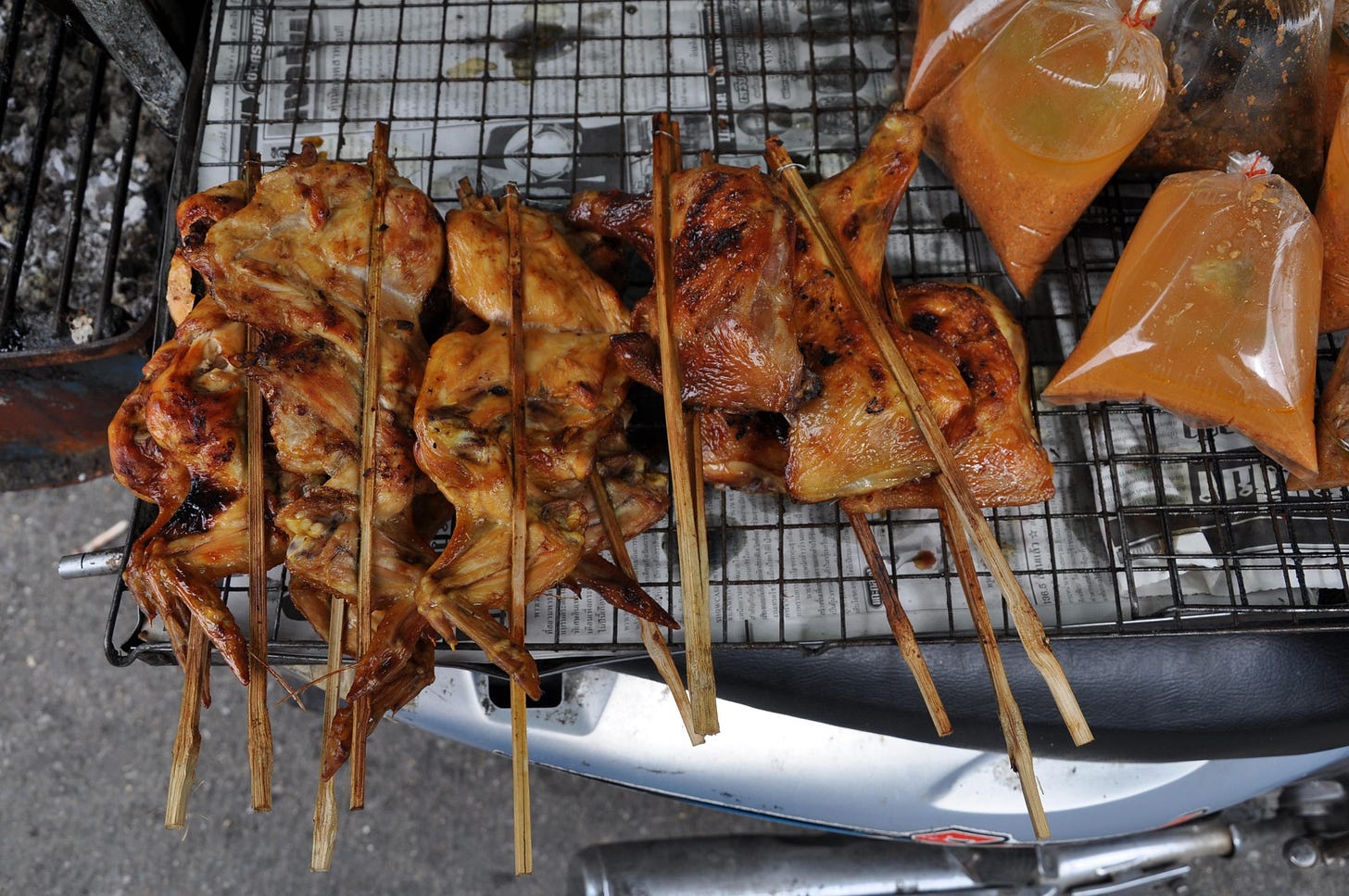 If you are staying near Khao San, skip the tourist restaurants—there is plenty of decent street eating. Photo: Stuart McDonald.
---
At this point, he rattled off a series of factoids about my past that, while general, were true. Then came the kicker: Exact predictions about the future.
"Next year, between March 12 and 18, you will receive good news by telegram or telephone."
"In late April, you will have relations with a woman from Holland." (Need not mention that one to Becky, I thought.)
"You have a future in writing, but do not start for two more years."
Of course, these were all months or years away—but they did all happen. And yes, I gave him my $50 travellers' cheque and walked off on a high.
For years I thought I'd had this incredible experience. Then I met a better-travelled friend in Bangkok to whom I recounted the story.
"Oh man, Stuart, you are such an idiot. Those guys are complete scammers, they can write with both hands. When you tell him the answers, he writes them down with his other hand under the notebook. When you hand him the note you've been blowing and tapping (eyes rolling at this point), he switches them by sleight of hand. Dude, come on!"
And I thought that woman from Holland was fate.
---
This week gone on Couchfish
I spend a full day exploring the island area of Ayutthaya. I hit some of the main crowd pleasing sights and eat more than my fair share along the way.
Favourite link out? A traveller video about Ayutthaya.
I leave the island and spend the entire day cycling around the mainland—taking in both fabulous temples and some interesting vestiges of the foreign presence in Ayutthaya back in the glory days.
Favourite link out? A video on Wat Phanan Choeng.
Writing about a town that is totally overrun by macaques was always going to be a challenge for me. Luckily there is plenty to see and do in Lopburi aside from having standoffs with furry vermin.
Favourite link out? A spine tingling video of rioting macaques in Lopburi.
An early morning trip to an extremely sacred Buddhist site some 20km outside Lopburi. Then onwards by train and bus to Kamphaeng Phet.
Favourite link out? A travel blogger write-up on Kamphaeng Phet.
A full day exploring the central and northern sections of Kamphaeng Phet's excellent historical park. I manage to eat quite a bit too, finishing the day relaxing by the Ping River.
Favourite link out? The waterfalls of Khlong Lan National Park.